2023 Folds of Honor FreedomFest was a Blast!
QuikTrippers worked hard to make the event a success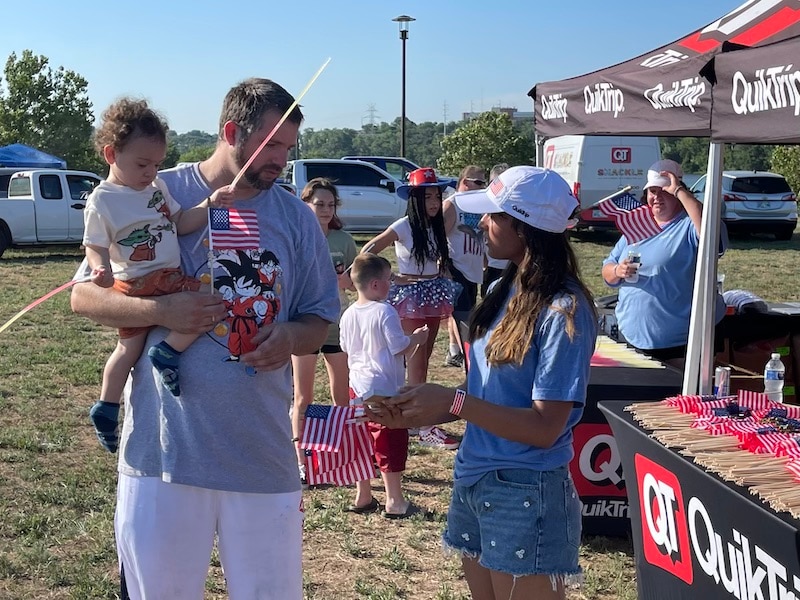 Tulsa's annual Folds of Honor FreedomFest returned for its 47th year in 2023! Thousands of spectators and more than a hundred volunteers came out to River West Festival Park and Dream Keepers Park for FreedomFest, leading up to the fireworks display over the Arkansas River. Tulsa's display is usually considered one of the largest 4th of July fireworks shows in the United States, with nearly 7,000 shells fired off over the 21st Street Bridge.
Food trucks and vendors came out to provide food and refreshments, and activities included a magician, inflatables, the sponsored booths live music, and a jump landing by the Red Bull Sky Diving team! The two QuikTrip booths had long lines for the fan favorite prize wheels, and volunteer redshirts rotated out manning the wheel or handing out the many freebies.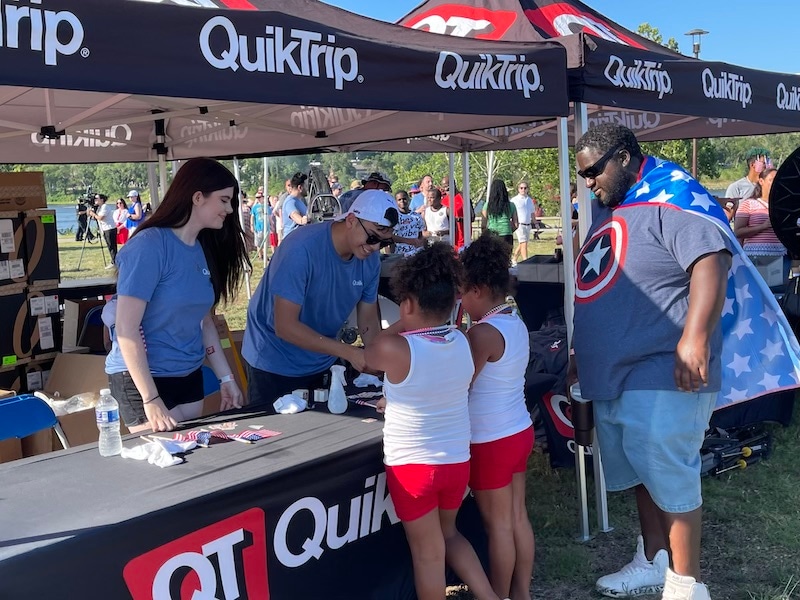 About QuikTrip 
QuikTrip Corporation is a privately held company headquartered in Tulsa, Oklahoma. Founded in 1958, QuikTrip has grown to a more than $11 billion company with 1,000 stores in 17 states. QuikTrip gives back to the communities it serves, donating five percent of net profits to charitable organizations in those communities. With more than 28,000 employees, QuikTrip has consistently been ranked as one of the top convenience store marketers in product quality and friendly service. To find out more about QuikTrip, visit www.quiktrip.com. 
About Folds of Honor 
Folds of Honor is a 501(c) (3) nonprofit organization that provides educational scholarships to the spouses and children of military members who have fallen or been disabled while serving in the United States armed forces. Beginning in 2022, Folds of Honor expanded its mission to include first responders. Its educational scholarships support private-school tuition or tutoring in grades K-12 as well as post-secondary tuition. It is rated a four-star charity by Charity Navigator and Platinum on GuideStar. It was founded by Lt Col Dan Rooney, an F-16 fighter pilot, who is currently stationed at Headquarters Air Force Recruiting Service Detachment 1, at Joint Base San Antonio-Randolph, TX. For more information visit FoldsOfHonor.org. 
About River Parks 
Spread along miles of the Arkansas River as it flows through Tulsa, River Parks provides some of the metropolitan area's finest outdoor recreation. More than 26 miles of asphalt-surfaced recreation trails weave past picnic areas, playgrounds, fountains and sculptures. The park's landscape ranges from manicured lawns to the rugged terrain of the Turkey Mountain Urban Wilderness Area. Recreation in River Parks includes fishing, running, rowing, rollerblading, kayaking, disc golf, hiking, cycling and horseback riding. For more information, visit www.riverparks.org.